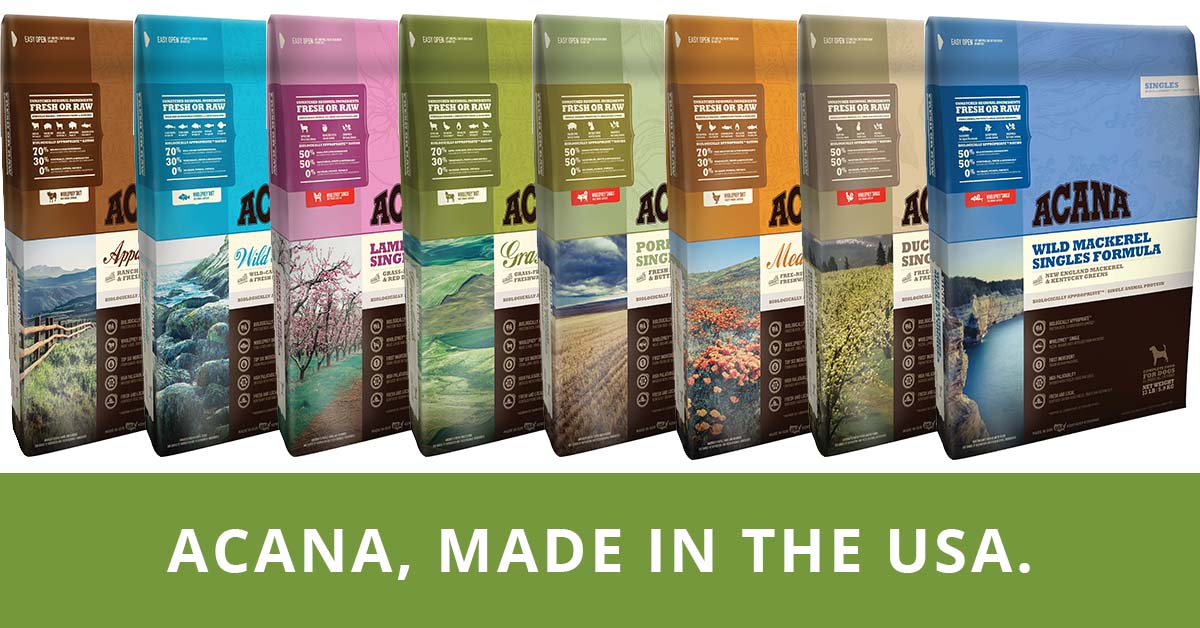 Over the last two years Champion Pet Foods, makers of Acana and Orijen, have been planning and building their new U.S. kitchen just a few hours from us in Kentucky. Not too long ago the new kitchen officially opened and started producing Acana dog and cat foods, both the Regional and Singles formulas as well as the new Heritage formula and new Singles treats. We're excited to announce that the new U.S. made Acana formulations are hitting our shelves this month.
With this new change, only U.S. made Acana will be available to us and the rest of the U.S. The Canadian kitchen will focus on their Canadian and international markets. In this post we're going to outline what's new and what you can expect from the new Acana formulations. There are links at the bottom of this post to compare the current and new formulas and to check out their new Heritage formula and Singles treats.
Since the formulations will be slightly changing, we recommend transitioning your Acana fed dog or cat by mixing their current food with the new formulation. There is no need to worry about quality changes because Acana has brought their trusted high-quality standards with them to Kentucky.
As of right now only Acana is being produced in the new kitchen. For the time being Orijen will continue being produced in Canada, but Champion is planning to start producing Orijen in the Kentucky kitchen in the near future, possibly this year. We'll keep you updated as those changes start to happen.
What to expect from your dog or cat's favorite Acana foods:
U.S. sourced ingredients
Made in Kentucky instead of Alberta, Canada
Atlantic / East Coast fish instead of Pacific fish
The Regional formulas with have slightly higher meat content and less veggies (70% meat / 30% fruits and veggies instead of 60/40)
They will continue sourcing and producing to the same high standards they always have
The formulas will have new names but the bag colors will remain the same for the similar formula / meat source
There is a brand new Singles formula – Wild Mackerel
The Chicken Singles will be unavailable until it's ready from Acana
Compare new and current Regional Formulas
Compare new and current Singles Formulas
New Acana Singles Treats (Coming soon)
Learn more about the Kentucky DogStar Kitchens
If you have any questions about the new Acana formulations, please contact us here or stop in to talk to one of our team members.