We have a new product available and I am very excited to tell you about it, you could say that it "totes my goats!"
Raw Goat Milk! Primal Pet Foods recently came out with Raw Goat Milk for dogs and cats.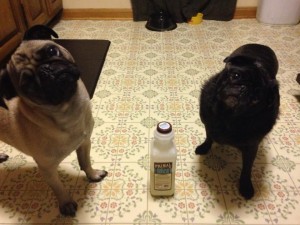 I feed the Primal Raw Diet to my three pugs occasionally, so naturally I was ecstatic about the raw goat milk. I took a bottle home for the pugs to try and they absolutely loved it. My two youngest pugs, Otis age 2 and Murphie age 4, begged for more after their first serving. My oldest pug Libra is nearly 13 years old and has a lot of health issues so I was especially excited for her to try the goat milk. She wasn't too impressed with her first serving but after giving it a second try she loved it. Libra has battled cancer, is partially paralyzed from an accident prior to her rescue, she is going deaf and blind, she has periodontal disease, among some other issues. Her diet consists of Acana Pacifica dog food, N'zymes BacPak Plus Probiotics, Diggin' Your Dog Green Lip Mussel Joint Powder and occasionally supplemented with Primal Raw Frozen Diet. After going through a few servings of the raw goat milk, Libra had a little more pep in her step.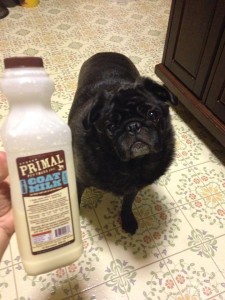 Goat milk contains vitamins, minerals, electrolytes, trace elements, enzymes, protein, and fatty acids all easily utilized by the body. Primal Goat Milk is sourced from a family farm located in California's Central Valley. The goats are free range, raised hormone and antibiotic free, fed natural and pure hay and grasses.
Spices added to the goat milk:
Cinnamon is added as an antibacterial/anti-fungal and can assist with arthritis and muscular inflammation in older animals.
Ginger is added as a digestive aid and natural antioxidant.
Turmeric is added as natural anti-inflammatory, antioxidant, detoxifier and anti-cancer herb.
Probiotics added to the goat milk:
Lactobacillus Acidophilus– Increase immune resistance against harmful bacteria and fungi such as Candida albicans, Salmonella, E. Coli, and Staphylococcus aureus; Helps control intestinal infections, which reduces the potential of diarrhea and other infections or diseases.
Lactobacillus Lactis: Able to synthesize both folate and riboflavin, two key B vitamins. Produces large amounts of lactic acid.
L. salivarius- In one study printed in the American Journal of Gastroenterology (1998). L salivarius, was able to produce high amounts of lactic acid (urease) and completely inhibited the growth of H. pylori in a mixed culture; H. pylori is the main causal agent of duodenal ulcers.
Enterococcus Facium- Provides important nutritional support in the event of diarrheal diseases, especially in cases when such pathogenic microbes, as rotavirus, invade the bowel. A transient bacterium, E. faecium needs to be replaced continually. In several studies, it has proved resistant to a wide variety of antibiotics and proved to be more effective than L. acidophilus in shortening the duration of diarrheal episodes.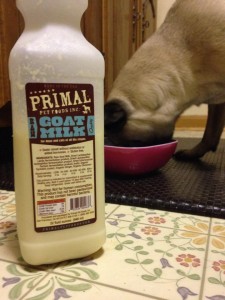 Primal Raw Goat Milk is a great tool to help with digestion but it also helps pets obtain their daily need for moisture. Dogs' and cats' bodies are about 65% moisture and unlike humans, they are designed to obtain the majority of their water from the foods they eat. By adding raw goat's milk (which is 88% moisture) to the pets' diet they will be gaining needed moisture as well as the benefits from raw nutrients.
Primal Raw Goat Milk is sold frozen, and should be stored in a freezer prior to use, thawed and served within 10 days.
Stop by the store this week to pick up a bottle of Primal Raw Goat Milk for your pet!