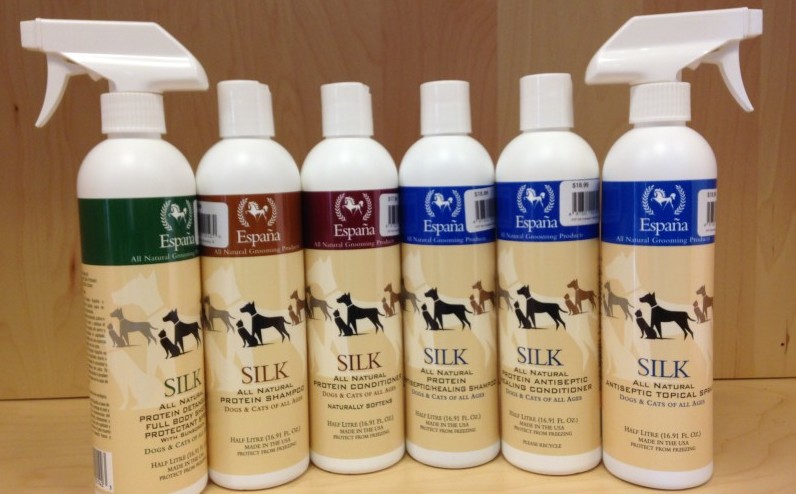 We are very excited about our newest product, Espana Silk All Natural Grooming line for dogs and cats.
Espana products are made with the finest and safest ingredients available and have been formulated to hydrate and reduce static to bring out the natural luster of your dog's or cat's coat. Espana products were developed to provide superior conditioning and moisturizing for dogs and cats of all ages, promoting healthy, silky coats and providing protective and healing properties.
Our pugs suffer from seasonal allergies and this summer was especially hard on them. Murphie and Otis came in contact with a sweet stray pug and unfortunately got fleas from him. Murphie is very allergic to flea bites, resulting in extreme hair loss and skin damage. Nothing we did seemed to help her skin until I got a sample of the Espana Silk All Natural Protein Antiseptic Healing Conditioner. Espana saved Murphie's hair and skin. She was bald with sores over most of her body from scratching.
I began applying the conditioner as a lotion to soothe her skin and it took the itch away and calmed the irritation. After a few days of applying the conditioner her wounds were healing and you could feel the hair growing back. After one month of use her hair was coming back in really thick and soft.  We are now about two months into using Espana for all our grooming needs and Murphie's hair is the healthiest I've ever seen it.
Espana products are:
All Natural (no dyes, no salt, no paragons)
Water based, extra hydration (non-oily, non-slip)
Ph balanced, natural preservatives
Biodegradable
Hypoallergenic
Naturally soap and detergent free
No petroleum, pyrethrins or alcohol-based chemicals
Environmentally friendly
Great for all animals and people too!
Stop in to check out the entire line of Espana SILK Grooming Products. We're very excited to be able to offer this incredible line.