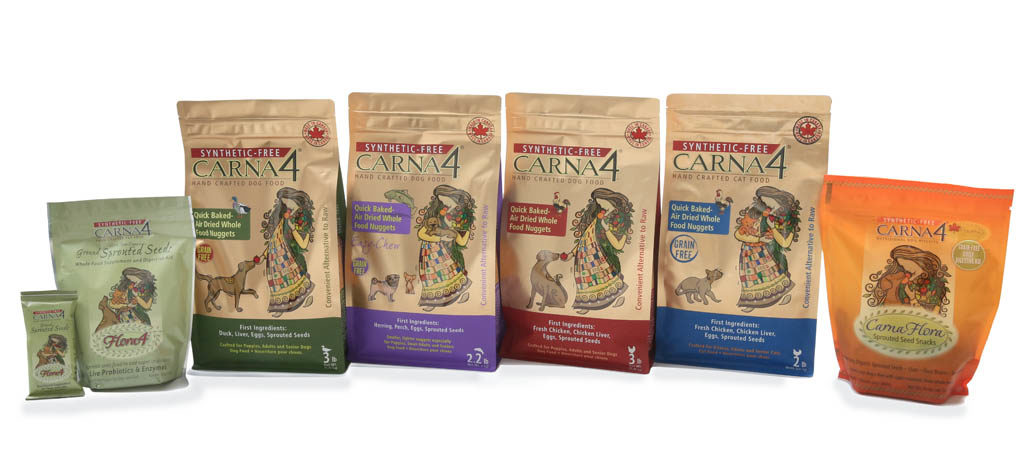 You know that when it comes to the foods we choose to carry, we have very specific standards that they must meet. And these days, for us to bring in a new dry food, it really has to impress us and offer something unique. That's why after months of research and discussion we have decided to bring in Carna4, a dry food for dogs that is gently baked and air-dried rather than extruded.
While this food kind of looks like and is fed like a kibble the differences are quite stark.
The Ingredients
Let's start with what's most important in any dog food – what's actually in it. Carna4 contains zero synthetic ingredients, which means all of the vitamins and minerals come from whole foods rather than a lab. When kibble and canned food is made for dogs & cats it usually needs to be fortified due to the intense heat and grinding that is part of the extrusion process. While there are a couple exceptions, this is usually done by adding a synthetic vitamin pack.
Because they simply grind the raw ingredients together and then gently bake the food, more of the nutrients are retained. Rather than using a vitamin pack to balance out the food, Carna4 uses organic sprouted seeds to round out the vitamins, minerals, enzymes, and probiotics.
Sprouting is a form a fermentation that makes the nutrients in seeds or grains bio-available, which simply means the animal or person eating the seeds is actually able to absorb and use the nutrients in them. Sprouting also gives the seeds a wealth of probiotics and enzymes.
Take a look at Carna4's grain-free duck formula:
Duck, pork liver, eggs, ground organic sprouted barley seed, herring, ground fava beans, sweet potato, ground organic sprouted flaxseed, ground organic sprouted lentils, ground organic sprouted peas, potato starch, apples, carrots, sea salt, kelp.
That's the entire ingredient list! And it far exceeds the minimum levels of nutrients required in pet food by AAFCO. All with actual food.
The Cooking Process
The longer food is exposed to heat, and the higher the heat, the more nutrients in the food are depleted. We know this is true for our own food, so obviously the same is true for the food that our dogs eat. That's why I love that Carna4 uses low temperatures and short cooking times. Instead of extrusion, the food is gently baked and air-dried, which naturally preserves more nutrients, enzymes, probiotics, and flavor that higher heat and more intense processing can often kill off.
The food is baked in actual ovens just long enough to heat the raw ingredients to 195 degrees. After that, the food is quickly air-dried to make it shelf stable and lock in all of the goodness.
Now since Carna4 is so nutrient-dense, you will feed your dog or cat significantly less than most any other dry food out there. Even the high quality ones. It's also worth noting that everything Carna4 does, the meat used and their organic sprouted seeds, is human-grade.
Who Is Carna4 For?
Carna4 is an all life stages food and it would therefore be a great option for puppies / kittens, adults, and seniors. For dogs or cats that are generally itchy or have digestive issues, this could also be a great dry food option because there are more enzymes, probiotics, and fewer / simpler ingredients in the food.
Of course, the ideal diet for dogs and cats would be a raw diet. But honestly, that's one reason why Carna4 is so great. Since it's so nutrient-dense, it would be a great choice for pet parents that feed both raw and a dry food because it's as close as you can get to fresh food in a dry food form.
Stop in or visit Carna4's website to learn more.